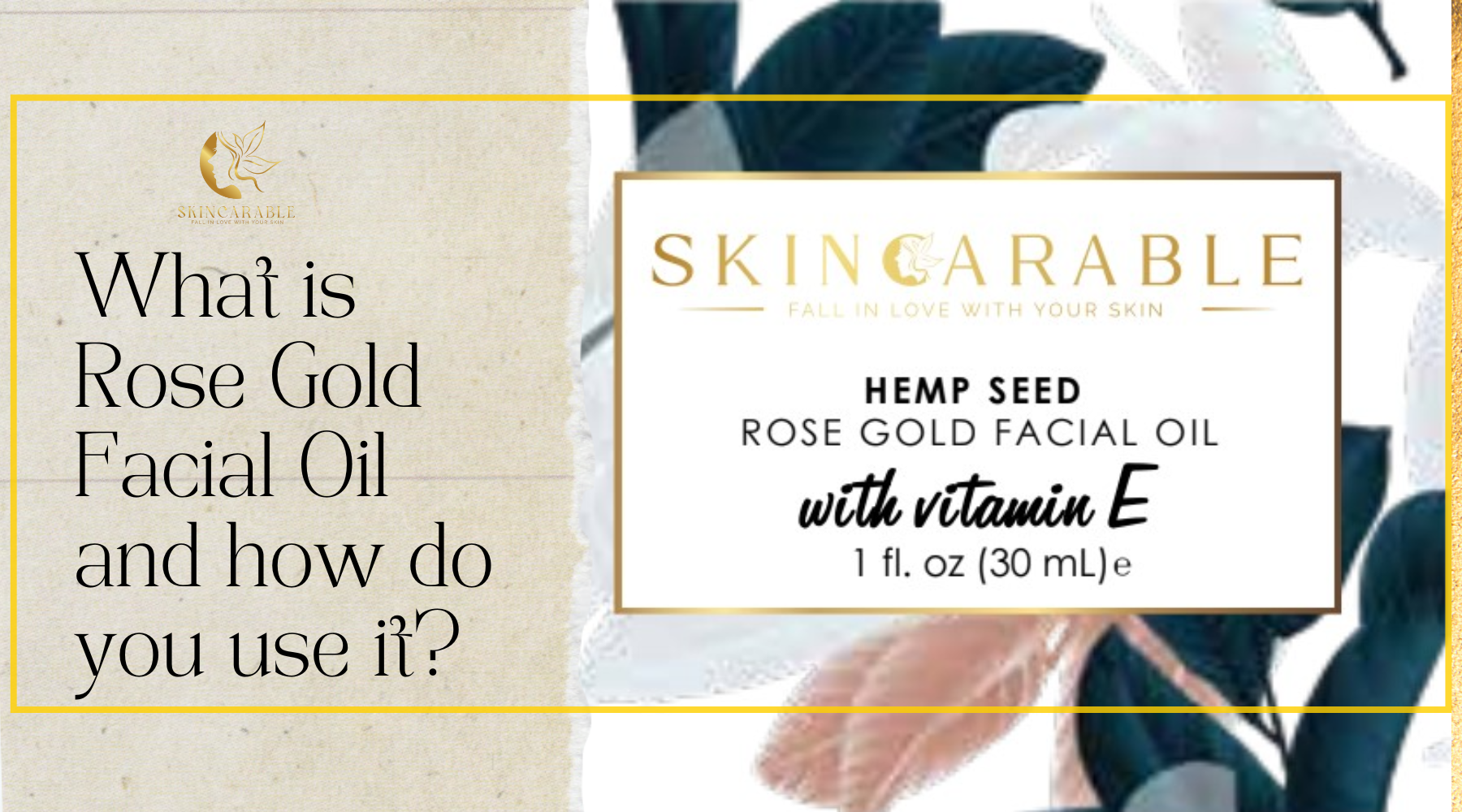 What is Rose Gold Facial Oil and how do you use it?
We have more time than ever to offer our skin some TLC and take care of it now that we are all stuck at home. We all have a variety of cosmetic products on hand, as well as a variety of home treatments to test. Going out is forbidden, but online shopping is not! The rose gold facial oil is one of the best skincare products that you should absolutely check out and purchase. Rose gold facial oil is a light-weight beauty oil that is formulated with high-quality ingredients including grape seed oil, hemp seed oil, Rosa Canina Fruit oil, olive fruit oil, and vitamin E that gets absorbed deeply into your skin and works its magic!
Skincarable's Luxury Hemp Seed Rose Facial Gold Oil is high in critical antioxidants, to deeply moisturize, nourish, soothe, and rejuvenate your skin while restoring its youthful glow. This beauty essential oil is designed to relax the texture of your skin and protect it from aging and fine wrinkles. The oil has a wide range of applications, including scar treatment. This oil works in all situations, whether you want to mildly hydrate your skin, brighten it, or just highlight it. The rose gold facial oil is a fully natural and organic product that is cold-pressed to work its all-natural magic on your skin and give it that delicate glow.
Rose Gold Facial Oil from Skincarable provides archetypal organic luxury. This oil is ideal for prepping your skin before wearing makeup because it is made with organic components and has no synthetics, fillers, or artificial fragrances. Rosehip Oil is high in omega fatty acids, antioxidants, and helps protect and repair skin from damage caused by free radicals. Omega fatty acids have many different benefits for the skin, including moisturization and hydration.
The Rose Gold Facial Oil from Skincarable may be used as a beauty primer, lip moisturizer, under-eye serum, and even a highlighter! With so many applications, this oil may be your best friend and go-to remedy for all your skincare problems and definitely one of the best skincare products out there. Daily use can help you reveal beautiful, clean skin that glows with vitality. So, what are you waiting for? Order this Rose Gold Facial Oil from the Skincarable website.
How to Apply Rose Gold Facial Oil?
Before using, give Rose Gold Facial Oil a good shake to ensure the best effects and even application of all ingredients on your skin. For optimal results, use it morning and night on the face and neck. Below are some suggestions for you to consider:
1.   Beauty Moisturizing Oil:
Rose Gold Facial Oil is a lightweight cosmetic oil that also has anti-aging properties (for all skin types). To keep your skin healthy and moisturized, use the Rose Gold Facial oil as a daily beauty oil. The Rose Gold Facial Oil's natural ingredients penetrate quickly into your skin, providing you with a healthy glow. Rosehip Seed Oil serves as the foundation for this exquisite Essence. Rosehip Seed is abundant in linoleic and linolenic acids, as well as vitamin C and vitamin A (retinol), all of which are needed for skin health. Rosehips have been shown to regenerate tissue and minimize fine wrinkles, hyperpigmentation, and stretch marks.
2.   Lips Hydration:
It's great for moisturizing lips before applying lipstick. Without compromising the finish, the Rose Gold Facial Oil efficiently keeps lips from drying out, especially when using liquid/matte lipsticks. Before applying lipstick, make sure to allow the drops to absorb into your lips.
3.   Incorporate with Foundation:
To keep your skin nourished and radiant, mix 1-3 drops with your favorite foundation (we recommend a full coverage matte foundation).
4.   Revive Dried Cream Products:
Cream products have a tendency to dry out. Simply add 1-3 drops to your favorite cream concealer, contour, highlight, or brow pomade to bring them back to life!
TIP: USE A BEAUTY SPONGE OR BRUSH TO APPLY.
Start by dotting your foundation onto your skin, then blending it in with 1-2 drops with a moist beauty sponge (or brush) for a radiant finish. You may also use it with concealer and contour if you have dry under eyes (or if you need more hydration). Apply concealer under the eyes first, then cream contour. Then, using a moist beauty sponge (or brush), mix in 2 drops of Rose Gold Oil.
Caution: If irritation or redness occurs, discontinue usage. Keep your eyes closed. Only for external usage.
Final Words
Skincarable's Rose Gold Oil is an ideal option and definitely one of the best skincare products for brightening, hydrating, and nourishing your skin. This nourishing beauty oil has a light, quick-absorbing texture that applies smoothly and leaves your skin shining. This organic oil is suitable for all skin types, including oily skin. To boost your natural radiance, treat your skin to this pure, natural, and chemical-free beauty oil.